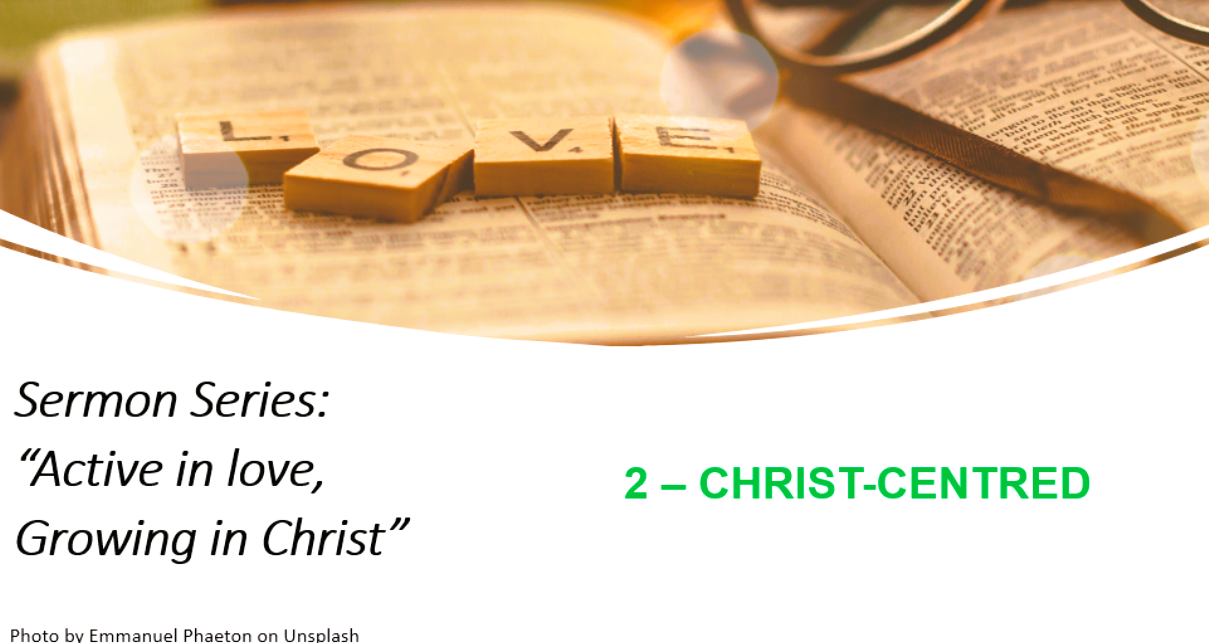 Sermon – October 22nd, 2023
Hope Lutheran Church, Port Coquitlam, BC
Text: Matthew 22; 1Thessalonians 1
Theme: Series: "Active in Love, Growing in Christ"
                                 2 – Christ-centered
___________________________
Intr – What is your list of priorities?
1-
2-
3-
4-
5-
Whether we have one or not, we all live by them. Priorities. For example: you might list "God, family, work, friends", but in real life it may not be your real priority list. Life and list don't match.
The same for the life of the Church. We do many different things as a congregation, but there is always a way in which want to make list and life match. By the Grace of God, many times they do. Other times, because of sin, the world, and our flesh, they don't. We focus on what is at the side, not on what is at the center, and the result may leave us disappointed.
Our Congregation's mission is "Active in love, Growing in Christ". We can be active because we are growing. But only because we are growing in Christ. And this is what we want to reflect today: We can only be active in love and grow in Christ when priorities are placed in the right place. But more than that, only when Christ is at the center of everything we are, teach, confess and we do.
1 – PRIORITIES
First, I want to mention that I see a problem with priorities in a top-to-bottom type of list. It can be a little confusing to us in the practice of daily life. For example: God is number one, and leisure is number 5. But what if I take a 2-week vacation but go only twice to Church, or pray for 10 minutes each morning as opposed to hours by the beach? Does that mean that God is not at the top anymore? Another example: family comes first and work third, but I spend more time at work than with family. Even though a list honours the 1st commandment, – God above all things – it can leave us confused and in our daily life choices.
Instead of a top to bottom list of priorities, we want to think today about a Christ-centred life of priorities.
2 – Christ at the center
When we think about Christ being at the center it might be a better way to figure things out. Here is an example of how we could see our daily life.(Picture on the screen) Christ at the Center, and everything else around Him. God not only above all things in our life, but he is at the center of everything in our life.
The Bible readings for today point to that reality. Psalm 96: "Ascribe to the Lord, O families of the peoples, ascribe to the Lord glory and strength!" And "For great is the Lord, and greatly to be praised; he is to be feared above all gods." There is nothing else or no one else in the world that deserves that place. Only Christ.
In the Gospel today (Matthew 22) we see Jesus putting Caesar in his due place. Because God is at the center of the Christian life.  Jesus is showing to the religious leaders of His time the difference between Him and Cesar. Cesar was considered by many to be a god, and many Cesars and kings of old would even demand divine personal worship. Christ draws a line between what a human god looks like and who He is.
In Thessalonians Paul said: "…how you turned to God from idols to serve the living and true God". Idols were at the center of the life of many Thessalonians, but by the power of the Holy Spirit, now the True God in Christ dwell in their hearts.
Christ at the center. This describes our life with him. At the same time, this helps us to visualize what is the greatest danger for our daily life: When other things threaten to take central stage.
3 –  At THE CENTRE
Problems happen when the other things that need to be around Christ take central stage: Family, Work, health…any other thing. When this happens, we are on the reverse path of the Thessalonians. We are going from the true God back to idols. Because and idol is everything and anything that takes the central spot in our daily lives. Remember this. This refers to your health, even to your family. Anything that takes the central place in your life becomes an idol. It drives you away from the first commandament, and then, drives you away from Christ altogether.
4 – CHRIST-CENTRED    
The first thing we need to remember is: God's Word is Christ-Centred. As I heard someone say once: You must see a red line going over every page of the Scriptures, otherwise you are reading it wrong. The Bible is not centred in you and the tips you need for your daily life. It surely helps in that capacity. But above all it is about the character of God and how it is revealed in Jesus – for you!
In the Church this is also the life we want: a Christ-Centred Life. A Christ-Centred Church. We want to have different programs, activities, engagements, and celebrations. But they are only worthy when connected to the center in Christ. Here we see the same problem as we in daily life: when a Church allows anything else slide to the center, that Church is in trouble. Even if they are deemed to be good, profitable things. Or worst of all, when egos, preferences, rifts, disputes, watered-down gospel, false teaching try to occupy that space. Christ is at the center. Everything else flows from Him.
From there, it is always important to remember that standing firm in Christ at the centre of everything comes at a cost. We live in a world that is very, very faraway from having Christ at the center. When it gets in contact with the teaching that we offer, the World may get discomforted, offended, or frustrated by it. The pushback may be strong.
Let's use in Pauls' words to the Thessalonians to outline our teaching and the way it may discomfort: "how you turned to God yfrom idols to serve the living and ztrue God, 10 and ato wait for his Son bfrom heaven, cwhom he raised from the dead, Jesus dwho delivers us from ethe wrath to come."
Idols – Everything at the center of one's life that is not Christ becomes an idol. A false god is everything you place your heart and faith upon: Your possessions, your friends, your assets, your wisdom. People, places, things. Paul is praising the Thessalonians because the idols were set aside, and Christ was at the center of their life.
True God – The Triune God, Father Son and Holy Spirit is the only True God. How does that sound in a "coexist, include everyone, every religion leads to God" type of World?
Raised from the dead – Ressurection is a central teaching of the Christian Church. If Christ was not risen from the dead, our faith is vain.
Delivers from the wrath – there is condemnation, eternal death, when faith in Christ is not present. It really doesn't settle well with "God is love and in the end he will probably save everyone."
We wait Christ from heaven – We live once, and on the last Day we will be ressurrected to live forever with Christ. That certainly does not go well with "when we die we become what we were before we were conceived" and other conceptions of what happens after death.
These and many other teaching don't go well with human reasoning. Then, we are tempted to replace Christ's Word and Work with different opinions about how the Bible should be read[1], in order to avoid conflict
Still, we remain Christ-centred. He is the sole, only centre our personal and Church life can have. It is the foundation of our faith.
Here we can connect our theme with the Catechism as we did last week. This time with another 2 parts: Baptism and the Lord's Supper. In Baptism we are baptized into Christ. He becomes our center. In Holy Communion we receive forgiveness, especially for those times in which our priorities get messed up, and we fail. Unconditional, unrestricted forgiveness for the repentant and believing heart.
5 – LIVING OUR PRIORITIES
        "But what about the initial talk about handling our priorities, pastor? How could be better see and manage them?"
Here's a way to understand how we could see them in daily life. Christ is at the center and everything else flows from him and is connected back to Him.  Now, there are times in which our focus needs to be more here, or there or there (emphasis on different spots of the wheel). We are still being faithful to the 1st commandment as our Catechism says, and consequently, to the entire counsel of God. He is and remains number 1. He is the Center, from where everything flows and to Whom everything connects back in our life.
Cc – Priorities. We all have them. Our Church has them. But remember: Our priorities are Christ-centred. With Him at the center of our life, all other priorities find their own place. Then, you grow in Him; you are active in Him. You rest in Him. You can do all things in Him. Because He who strengthens you is at the center of everything in your life.
__________________________________
[1] We could add more examples here:
-Christ is God and Man.
-Christ is the only way to the Father
-God has created man and woman.
_Christ is presented with His body and blood in the bread and the wine.
_The Bible is the only book that reveals God's Word to the World.